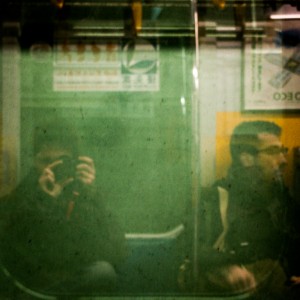 –
Salut !
Nous sommes deux amis d'enfance et nous intéressons au Japon depuis notre rencontre. Après trois voyages riches en émotions et découvertes, l'envie commune de partager ce qui nous a fasciné sur place et notre ressenti est venue naturellement.
Nous proposons simplement de partager notre vision personnelle et notre perception sur place au quotidien tout en essayant de proposer un angle de vue et un contenu plus original et vivant que de simples images.
Aussi nous vous proposons ici une galerie basée sur des photos, des sons et des écrits issus de notre dernier voyage en Novembre 2015. Vous pouvez tout d'abord nous suivre au travers de clichés quotidiens que nous avons posté au jour le jour pendant le périple puis découvrir les différentes séries et thématiques que nous avons travaillé ensuite. Le site sert aussi de support à  deux petites expositions qui ont lieu en ce moment même.
Pour toute remarque, question ou suggestion, n'hésitez pas à nous contacter : contact@9734.fr
Vous pouvez également nous suivre via notre page Facebook.
---
Welcome here !
We are two childhood friends who have a big interest for Japan since the early days. After three rich and emotional trips, the common envy to share our feeling and what fascinated us there became obvious.
We simply want to share our personal vision and our perception on a daily basis while proposing something with an original angle and a content more vivid rather than simple photographs. Thereby we propose here a gallery based on photos, sounds and stories from our last trip in November 2015.
First, you can follow us through daily shots we've posted daily during the journey and also discover the different shots series and thematic we have worked then. The site is also a support for two exhibitions taking place at the moment.
Don't hesitate to contact us for any purpose at : contact@9734.fr
You can also follow us with our Facebook page.